Welcome to ACT Institutet Sweden!
Education, research and clinical consultation
ACT Institutet's unique expertise
The evidence for ACT as a psychotherapy is strong for those with mental conditions such as anxiety and depression and for chronic pain.
Chronic conditions are related to lifestyle behaviors and often treated by non-behaviorally trained professionals (MDs, nurses, physios, OT, etc.) who face challenges when it comes to prompt sustainable lifestyle behavioral changes.
Many professionals undertake ACT training but lack the necessary support and guidance to "translate" and implement its therapeutic processes to their own field and work with their own tools.
ACTiveRehab was created in 2006 to bridge that gap. It offers a comprehensive model to translate ACT underlying principles into each of the other professionals improving not only the professional skillsets but also streamlines the clinical pathways. More effective intake that kills waiting lists, stepwise and tailored treatment programs, systematic assessment and common language for the
members of the inter-professional team. 
Courses & Workshops
ACT and ACTiveRehab boost your skills to prompt sustainable behavioral changes. To effectively change lifestyles is imperative not only for our patients with chronic or combined conditions, but also for us working in the health care services.
It's like a sport, if you aim to be a good sports-coach, you need first to be amazing in that sport yourself, then have the capacity to see what your trainee needs to thrive.
Lectures
ACT is a psychotherapy based on empirical tested mechanisms of action that account for behavioral changes. ACTiveRehab goes back to these mechanisms and help all the other professionals to build their practice on these mechanisms BUT WITH THEIR OWN TOOLS.
Clinical development
ACT…
Wellbeing & self-care
ACTiveRehab provides health professionals with tools and skillset to accurately and effectively manage stressful situations in a mindful manner, with self-care and self-compassion.
In the near future, and given the high demand, ACT Institutet will also offer courses for the general public and individuals with chronic conditions.
Stay tuned!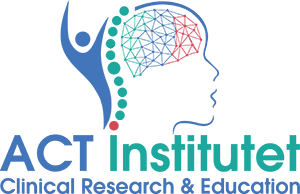 Dr. Graciela Rovner
+46 (0)709 74 37 77
graciela@actinstitutet.se
Trälåsvägen 13 A
SE-426 68 VÄSTRA FRÖLUNDA
Gothenburg, SWEDEN